Low Budget Renos to Help You Love Your Home Again
Posted by Jennifer Zarenski on Thursday, February 11, 2021 at 11:57 AM
By Jennifer Zarenski / February 11, 2021
Comment
Easy, Low Budget Home Renos To Help You Love Your Home Again
Valentine's Day is fast approaching, and most people are wondering what the perfect gift to get their significant other is. However, there is another aspect of our lives that many people take for granted and don't realize that until frustrations start to rise. This V-Day, Red Door Realty Group wants to share with you a few different tips to make you love your home again, and bring back all those fuzzy feelings you first had when you fell in love with it.
1. PAINT
This is a project I recently undertook in my own home. I moved into my boyfriend's townhouse at the end of 2019, and finally decided to get around to de-bachelor padding it. The worst room by far was the one tiny bathroom that we have, I'm talking ceiling, walls, trim, floor, vanity, EVERYTHING was beige. Not to mention, his previous roommate had been a smoker and in the winter decided to smoke in the bathroom and coat the walls in some beautiful nicotine. Now the only beige left is the unfortunate linoleum that we aren't allowed to remove per our rental contract, but we painted the ceiling and trim white (hello, this century?), and went with "Emmie's Room" by Joanna Gaines' Magnolia paint line for the walls. It's a sweet soft blue green color, and it's so much less offensive to the eyes.
2. DIY Stair Runner
Having a stair runner professionally installed can be EXPENSIVE, especially considering how easy it is to do yourself. The most expensive part will be finding the runner that you want to install, but there are plenty of off-the-shelf options that are just as great as the "custom" ones the pros use. Stair runners are great for slick wood stairs, especially if you have little ones running up and down them! Plus, they can be an easy way to add character to your home, without breaking the bank.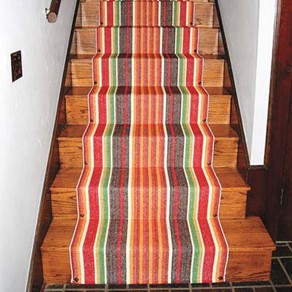 3. Paint Your Cabinets
Cabinets can make or break important areas of your home, not only in your eyes, but in potential home buyers' eyes too. Dark, drab cabinets can date a kitchen quickly, and we all know that kitchens and bathrooms are what really increase the value of a home. There are plenty of options to update your cabinets- with the most expensive being replacing the entire cabinet. A slightly cheaper option is to reface the cabinets, aka get new doors installed, but the cheapest, and easiest option is to paint them! Much like painting walls, painting cabinets can breathe new life into your kitchen or bathroom.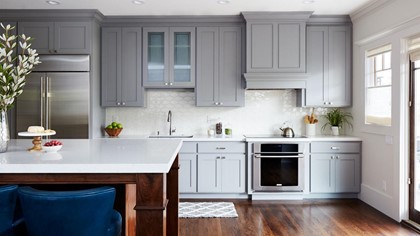 4. Ditch the Granny Style Ceiling Fan
You never truly realize how much ceiling fans can impact a room until you see the ornate gold and mahogany one in your grandmother's living room. Spending a couple hundred bucks on a new one can instantly update your space- and make it seem less dated throughout to prospective buyers. Ceiling fans are incredibly valuable to home buyers as well, as they can help cut down on energy costs in warm summer months by helping avoid cranking the AC all the way up.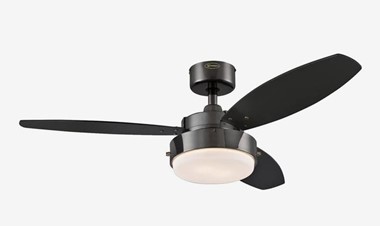 5. Power Wash Your House
Power washing the exterior of a home can make it look unrecognizable. Whether you have a brick home or are working with siding, cleaning off all of the dirt and grime that cakes on throughout the years will turn your home into a showstopper. It'll give you one of those moments where you think, "oh, so THAT'S what that color was supposed to look like!" My neighbors recently went through this, and came to find out that their "beige" home was actually a vibrant shade of pink! I'm not sure this is the result that they really wanted, but they felt better knowing nothing was growing in the siding after the previous owners had neglected the exterior for years.